I admit it. I am a sucker for pop-up books. I find the engineering fascinating, and take great delight in watching how a 3-dimensional scene pops-up when  you unfold the pages. The genre began in the late 19th century (when children's books first began to develop as a separate category) and there were for a time several London publishers (Dean & Son and Raphael Tuck & Sons) who competed with each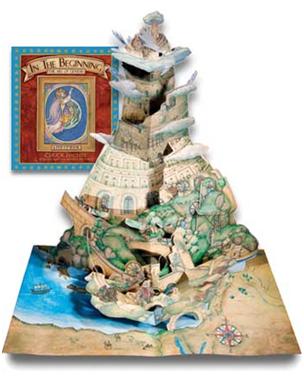 other in producing elaborate "movable books."
I was delighted when Julie Salmon called my attention to this stunning pop-up book in an email last week. In the Beginning – The Art of Genesis
contains some of the most elaborate and stunning examples of paper engineering that I have ever seen. The book is a collaboration between author and designer, Chuck Fischer and "paper engineer" Bruce Foster. Fischer is a muralist, trompe l'oeil master, product designer and published author working out of his studio in New York city. Foster studied art at the University of Tennessee and has designed more than 40 pop-up books.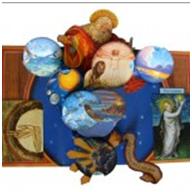 There are seven 2-page spreads in this book, each with an elaborate pop-up, three-dimensional design. The opening pop-up is a framed image from Michelangelo's Sistine Chapel. The 2nd spread is an overview of the Seven Days of creation which reads from bottom to top. Each day is represented by a separate disk. Each disk has a small pull-out circle in it which gives the biblical reference describing what was done on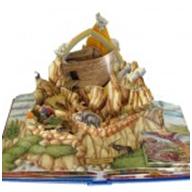 that day.
The 3rd spread is a mosaic style triptych which depicts the creation of eve, the temptation, and the expulsion from the garden.
The 4th spread tells the story of Noah's Ark, choosing the moment at which the ark has come to rest on Mt. Ararat and the animals are emerging, with a rainbow arched overhead. There is a detail of Noah and his family offering a sacrifice of thanksgiving at an altar in the foreground.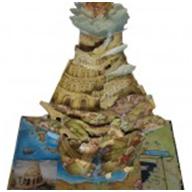 The 5th spread is the most elaborate I have ever seen in a pop-up. It features a Tower of Babel which jumps to a full eighteen inches high. Quite a feat for a book which is itself, only eleven inches by nine inches!
The top of the tower encircled by clouds and thunderbolts and there is an impressive level of detail as we see the workers and materials being prepared at the base to push the top of the tower still higher.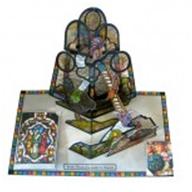 Perhaps the most visually interesting is the 6th spread, which depicts Jacob's ladder and the dream-vision of the patriarch as he saw angels going up and down a ladder to heaven. Most of the artwork of this scene is reproduced on acetate layers which gives it an overall "stained glass window" effect.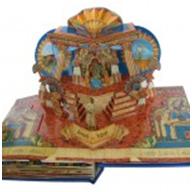 The final scene is set in the Egyptian court of Pharaoh and depicts Joseph interpreting Pharaoh's dream. To either side of Pharaoh there are rotating disks which transform from the image of the seven fat cows to the seven lean ones, and the seven full ears of grain and the seven withered ones. There are fold-out panels with the text of the full story of Joseph from the last twelve chapters of Genesis.
This is NOT a book for small children to handle on their own. It IS a book that they will take great delight in looking at WITH an adult. And if you're like me, you'll have quite a good time opening and closing each spread, reading the text, and admiring and exploring the details.
This is a book that really cries out for a video of its own, and thankfully, the publisher has created one. Click on the play button below to see most of the spreads in this remarkable book as they unfold.
httpv://www.youtube.com/watch?v=0OuDrvHmCQA
In The Beginning – The Art of Genesis is a hardback, with seven pop-up scenes and 15 bound-in mini-books of text. It is in-stock and available directly from Greenleaf Press for $35.00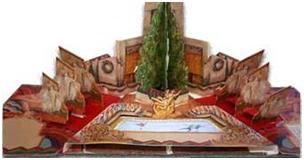 Fischer and Foster have collaborated on two earlier pop-up books, also quite impressive. The first, published in 2006 was Christmas in New York, A Pop-Up Book. Christmas in New York has six pop-up spreads, depicting Radio City Music Hall, The Metropolitan Museum of Art's Angel Tree, Rockefeller Center, The Nutcracker, Fifth Avenue and New Year's Eve in Times Square. Here's a video that shows the remarkable scenes "popping up":
httpv://www.youtube.com/watch?v=4PoZsBHEOk4
Christmas in New York is $35.00, and also available directly from Greenleaf Press.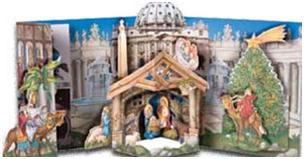 In 2007, they released Christmas Around the World, A Pop-Up Book, with fourteen pages of stunning pop-ups, pullouts, and booklets about celebrations in France, Germany, Great Britain, Italy, Latin America, Russia, Scandinavia, and the United States. Here's a video showing off Christmas Around the World.
httpv://www.youtube.com/watch?v=YGjc7U0oJkw
Christmas Around the World is $30.00 and also available directly from Greenleaf Press.
Any or all three of these would make great Christmas presents!
– Rob Shearer, publisher
Greenleaf Press
Tags: Bruce Foster, Chuck Fischer, genesis, Pop-up books