We've always been big proponents of the study of art history as a part of the study of any historical time period. Along with literature, art provides abundant opportunities to explore what people in another time thought, valued, believed, or were interested in. Art can be studied with students in any age or grade level. The kind of discussion you will have will vary with the age of your students, but even first and second graders will find the Pyramids, the Parthenon, and the Pantheon fascinating.
For younger students, we highly recommend the Mike Venezia series – with 47 separate short, quirky books on artists from Giotto to Warhol. For older students, there are several good survey books, but if you and your students are interested in going a bit deeper, we have some wonderful new resources to recommend.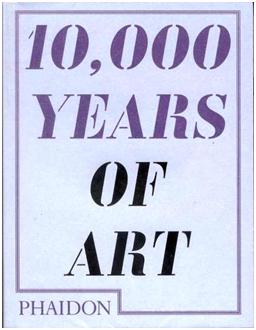 The first is a very handy reference book, 10,000 Years of Art from Phaidon Press published in 2009. It is VERY reasonably priced, at $11.95 and includes color images of 500 works of art. Best of all, they are arranged in chronological order.
Here's an example: Circa 800AD, photographs of a cast bronze figure from Sri Lanka and the Book of Kells (an illuminated Bible) from Ireland. Along the header of the pages are the dates and location of each work of art. The text underneath each image is a concise, well-written summary of why each work is important.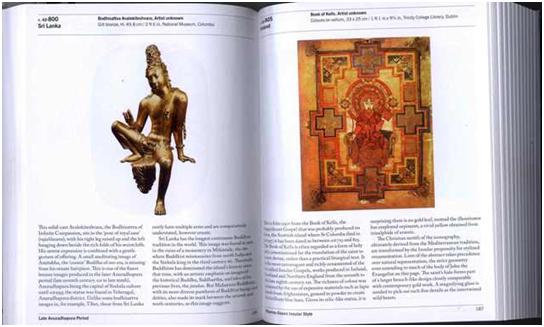 A few pages later, with dates of 1072 and 1075 are a silk painting by the Chinese artist Guo Xi, and a panel from the Bayeaux Tapestry (which tells the story of William the Conqueror's invasion of England in 1066).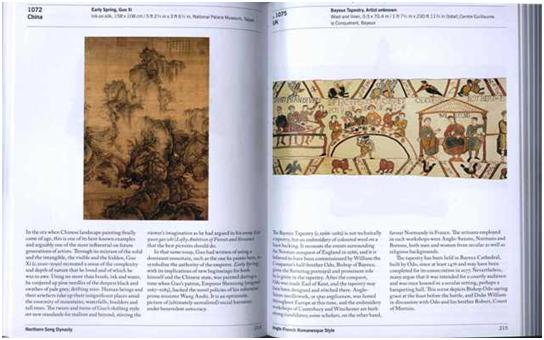 In 1303 we have Giotto's masterpiece, Lamentation Over the Dead Christ (from the Scrovegni Chapel in Padua) and facing it the 1308 Sienna Altarpiece by Duccio.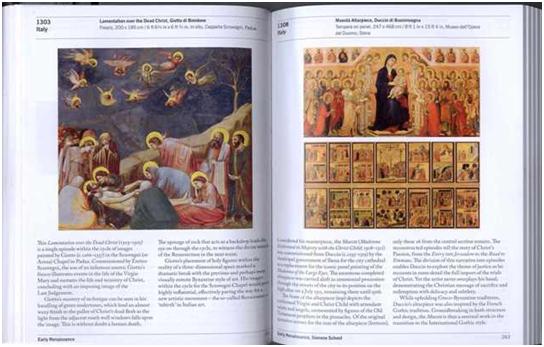 And then, a more modern example, from 1930, Grant Wood's American Gothic and on the facing page Salvador Dali's Persistence of Memory from 1931.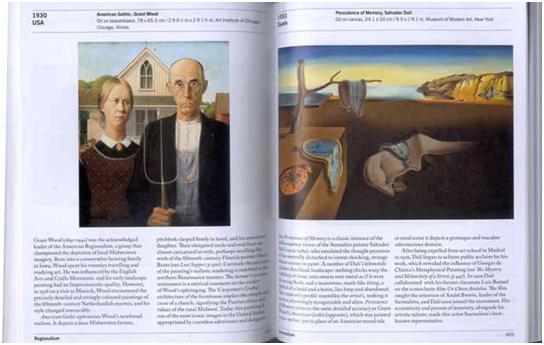 There are 500 images overall, with many familiar and famous names (Rembrandt, Vermeer, Da Vinci, Michelangelo, Chagall, Klee, Picasso, Van Gogh for example). Included are a large number of pieces of sculpture and more than a dozen illuminated pages from Europe, Arabia, India, & China.
The Phaidon book is extremely useful in giving teachers, parents, and students an overview of key pieces and getting them in sequence and context. If you want to study a particular work of art in detail, then you'll want a reference book with a larger format, but as a guidebook/reference book, the Phaidon 10,000 Years of Art is a superb place to start. The book is a 543 page paperback and quite economical at $11.95 – available directly from Greenleaf Press.
For those who would like a more in-depth look at medieval architectural styles, I have run across a wonderful series of oversize hardbacks from Parkstone Press. While there are ten volumes in the full series, I would recommend in particular the volumes on Romanesque Art and on Gothic Art. For a study of the Middle Ages, these are the two broad important schools. The Parkstone volumes are gorgeous. They are oversize (9.75″x11″), and all pages are color on glossy paper. At 200 pages each, I would have expected them to cost $40 to $50 each but was quite pleasantly surprised to find that they are priced at a very economical $19.95.

Romanesque Art covers the architectural style of churches and monasteries built in the early Middle Ages (in Italy and in northern Europe) in the first 2/3 of the book and then devotes the final third to Romanesque sculpture and painting.
Gothic Art introduces the distinctive elements of Gothic art and architecture and then covers dozens of the great gothic cathedrals with beautiful color photography of both interiors and exteriors. Like the Romanesque book, it has a complete section on sculpture and painting as well.
Both of these volumes are excellent reference works. The color photography is beautifully done. I could sit and browse through them for hours. Your students will be captivated as well. If you're studying the Middle Ages, these are two reference books you really should have.
Published in 2008, Romanesque Art is a hardback, 200 pages, $19.95 from Greenleaf Press.
Published in 2008, Gothic art is a hardback, 200 pages, also $19.95 from Greenleaf Press.
– Rob Shearer, Publisher
Tags: architecture, Art History, gothic, romanesque