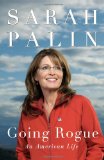 Unlike some of Sarah Palin's critics, I've waited until I actually read the book from page 1 to the end (page 413). It's a good read. The subtitle is "An American Life." It is an autobiography, not a political manifesto. It would be a mistake to judge it for not doing things the author never intended. As biography, I found it fascinating – and funny, and sad.
The book is divided into six sections. In chapter one, Sarah tells the story of her parents' lives and their decision to move to Alaska when Sarah was two. She talks about her experiences growing up in a close-knit family on America's northern frontier. Her dad was a high school science teacher and a coach – and a hunter and avid outdoorsman. The whole family grew up hiking, hunting, and fishing. Sarah played several sports in high school, but freely admits she was not as talented an athlete as her older brother or older sister. But she worked hard, and in her senior year she led her high school basketball team to the state championship. She talks about meeting and marrying Todd, whose background is equally fascinating. Todd has to have the toughest work ethic of anyone in his generation. If you've ever caught an episode of "Deadliest Catch" on the Discovery Channel, that's Todd.
Chapter two describes her decision to enter politics and her terms on the Wasilla city council and then as the full-time mayor of Wasilla, finishing with an unsuccessful run for Lt. Governor and her service on the state regulatory board which oversaw oil and gas exploration. Chapter three recounts her run for Governor of Alaska and the challenges she faced as the first woman governor.
These three chapters make up the first half of the book. The second half of the book is a retelling of the 2008 election campaign, from the time she was selected as the nominee for Vice President through her decision to resign as governor of Alaska. Her inside view of the campaign doesn't fully explain what went wrong, but there are plenty of clues. The VP's campaign is run separately from the Presidential nominee's with few joint appearances. But it's clear that Sarah was a different sort of Maverick from Senator McCain – and that neither the Senator, nor his staff – especially his staff – ever understood her, or knew what an asset she could have been in rallying popular support for the ticket.
Palin has nothing negative to say about Senator McCain. What comes through in the book is her sincere admiration and respect for him. They had met before the campaign – McCain had made appearances at the National Governor's Conferences and they seem to have liked each other. It is McCain's staff who come off badly, especially campaign manager Steve Schmidt. He seems to have been a stubborn, profane bully who regarded Palin as an annoyance and a distraction from the beginning.
There are a couple of funny anecdotes (and a few shocking ones) from the campaign trail. Just before her debate with Joe Biden,
". . . a campaign consultant whispered some last-minute advice on voice inflection. I hated to drop a bomb on her, but I'd been talking the same way for forty-four years and doubted our few moments alone would miraculously reform my style. Besides, I thought of all the money Tina Fey was making imitating me; I didn't want to screw up her SNL thing by changing up on her midstream. I'm all about job security for the American worker."
[heh]
That anecdote catches the flavor of the book. Palin is not afraid to poke a bit of fun at herself. She appreciates the absurdities of politics. She has a wry sense of humor.
As an autobiography, this is a great read. She gives us lots of stories about her childhood, her marriage, and her children. It's very clear that she loves being a mom and loves her children. Her description of receiving the information that their youngest child, Trig, would be born with Down 's syndrome is emotionally charged and very moving. In short, she's a real authentic person. Reading about her as a daughter, a wife, and a mother – as well as her stint as an athlete, competing in the Miss Alaska Pageant, and working part-time as a sports journalist – makes it clear that she has an identity and a sense of who she is quite apart from her forays in the political realm.
I have no idea if she intends to run for another office. This is NOT a political manifesto, it is autobiography. We hear about politics as she experienced it growing up in Alaska. She admires Reagan and Thatcher and describes herself as a "commonsense conservative." She's in favor of not just slowing the growth of government, but in reducing its size. This hasn't always been a radical position. It clearly resonates with a large segment of the American electorate. She's not an ideologue, driven by a passionate commitment to a philosophical or political system. She's a daughter, a wife, and a mom who got involved in local and then state politics, and knows a thing or two about what's wrong and what could be done to improve things.
The genius of the American political system has always been the opportunity for the citizen-legislator to run and serve, and then return to private life. Professional politicians – people who have spent their whole lives in the business of politics and whose deepest drive is to acquire political power – do not have a particularly stellar track record. Will Palin run and serve again? We could do far worse.
– Rob Shearer, publisher