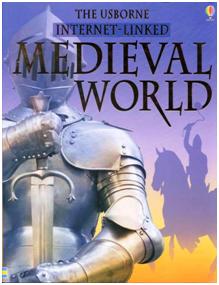 Usborne has been producing quality color reference books for children for several decades now. Their books have always featured lots of original color artwork along with short, explanatory paragraphs which function as expanded captions. Medieval World joins two other classic titles that we have long recommended, The Greeks and The Romans. Like them, it is a 96 page paperback, with color art-work printed on high-gloss pages.
The sequence of topics is arranged in chronological order, with broad coverage of cultural topics and details. The book opens with a 2-page spread on The Byzantine Empire, and then a page on The Barbarian Kingdoms, and a page on Return to Christianity which mentions the Irish monks, Augustine's mission to the Angles, and an illustration from the Book of Kells. These are followed with coverage of the Rise of Islam and the Vikings.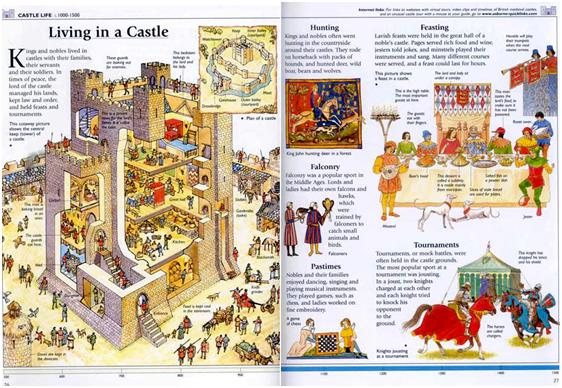 In the middle third of the book, there are spreads on Living in a Castle, Living in a Village, and Living in a Town. There is also extensive coverage of church history, with pages devoted to The Power of the Popes, Enemies of the Church, Building a Cathedral, Going on a Pilgrimage, and Monks and Monasteries.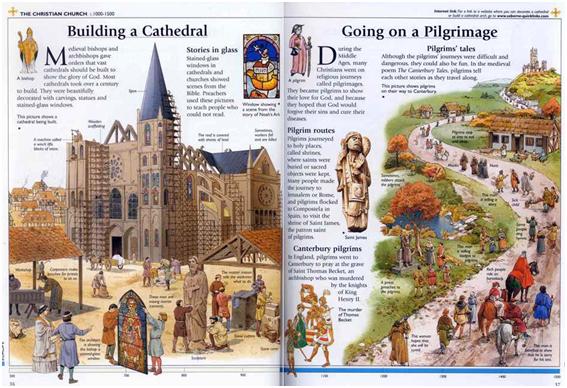 The High Middle Ages are well covered, with pages on The Rise of Burgundy, The War of the Roses, Triumphs of the Turks, The Rise of the Russians, and the Struggle for Spain.
The final third of the book takes a more global perspective with coverage of Africa, India, China, Japan, North America, Aztecs, Mayans, Toltecs, and Incas during the Middle Ages.
There are a few concluding spreads which introduce the developments which marked the transition from the later Middle Ages into the Renaissance. Topics include Artists of Italy, Ideas and Inventions, and Voyages of Discovery.
The reading level on the text is approximately grades 5-8. Younger children will enjoy looking at the pictures and having the text read to them. Older students (including high school and adult) will find a wealth of information here that goes well beyond what is covered in traditional textbooks (much more interesting, too!)
I highly recommend all of the books in this series. Medieval World makes a great companion to the Famous Men of the Middle Ages.
Medieval World is a paperback, 96 pages. You can order it directly from Greenleaf Press for $14.99 by clicking on any of the links in this review.
– Rob Shearer, Publisher