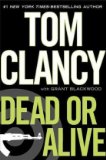 After a wait of seven years since the last novel, (The Teeth of the Tiger – 2003), I received an advance notice today that Clancy's new novel, Dead or Alive, will be released on December 7th, 2010. 848 pages (yay!) Initial printing is 1,750,000 copies. Not bad for a $28.95 hardback. First print run should net the author about $5 million in royalties!
The  plot revolves around Jack Ryan, Jr. and The Campus,  the private security agency founded and funded by his father to track down and eliminate terrorists.
To my friends and family: I will have one ordered for the release date. Sorry, can't wait until Christmas!