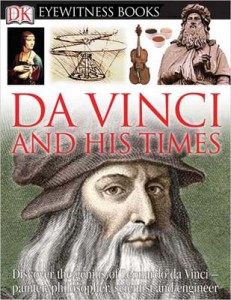 Sad news reached us today. Another one of the great Eyewitness books from Dorling Kindersley has gone out of print. This time it was Da Vinci and His Times.
DK had a meteoric history as a book developer, packager, and then international publisher. They fell on hard times in 2000 – wiped out over several foolish marketing decisions when they signed on to do the Star Wars Visual Dictionary. The Phantom Menace didn't do as well as expected at the box office, a new manager – unfamiliar with the book business- make grandiose promises about sales and printed several million copies more than what could be sold. In the end, DK was sold to the Pearson Group (which also owns Penguin Books). I was cautiously optimistic that the management at Pearson would realize what a resource they had in the Eyewitness Series. Sadly, it appears they do not. The series has been slowly dying, title by title over the past five years. Renaissance is gone. Da Vinci is gone. Shakespeare is gone. Everest, India, & Russia are gone. Perspective, Monet, & Impressionism are gone.
I hope they'll keep the remaining titles in print, but odds are that many of them will not be reprinted when the current stock sells out. Greenleaf carries them all. I suppose they will become collector items like the old Landmark series from Random House.