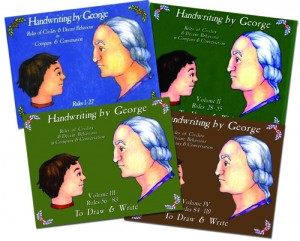 Rules of Civility & Decent Behaviour in Company & Conversation.
Greenleaf Press is very pleased to announce that all four volumes in this series are now in print and available!
When George Washington was sixteen years old, he began copying 110 maxims for polite behavior into his schoolbooks. These rules describe the behavior of a gentleman, and many claim that they greatly influenced Washington's attitudes and standards for his own behavior.
One day, when we were all tired of the standard handwriting practice book copy material, we began using Washington's Rules as copy work. While many of them have obvious application to the eighteenth century, they also have a lot to say to modern gentlemen and ladies.
We hadn't expected to enjoy these sayings as much as we did. They rarely stayed merely copywork exercise but became the basis of other discussions. "Show nothing to your friend that might affright him," had immediate application. Other rules addressed putting others first and self last – and other ways to show respect to those around us.
Something special happens when children write these rules out for themselves.
Each volume contains 27 or 28 rules, with space to copy and illustrate each one. Practice for children learning to write, and spark discussion about "civil and decent behavior."
Each is a paperback, 64 pages and intended for use in grades 1-3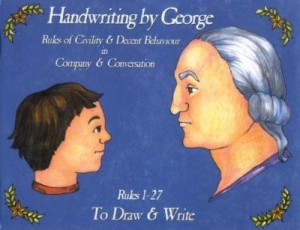 Volume 1 contains such intriguing rules as:
Rule 4: "In the presence of others sing not to yourself with a humming noise nor drum with your fingers or feet."
Volume 2 contains such intriguing rules as:
Rule 40: "Strive not with your superiors in argument, but always submit your argument to others with modesty."
Volume 3 contains such intriguing rules as:
Rule 70: "Reprehend not the imperfections of others for that belongs to Parents, Masters, and Superiors."
Volume 4 contains such intriguing rules as:
Rule 89: "Speak not Evil of the absent for it is unjust."
You can order all four volumes for a discount package price of $32.95 (a 10% discount – $36.95 if purchased separately). Or, if you already have volume one and now want to get the other three, you can get a discount price of $26.50 for volumes 2, 3, & 4 (a 10% discount – $29.85 if purchased separately).
Two birds with one stone – handwriting practice and character building!
– Rob Shearer
Publisher, Greenleaf Press