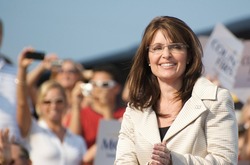 Change.org, a wholly-owned subsidiary of Obama, Inc, sent out an email today urging all of its members, affiliates, subscribers, & sychophants to "Send a powerful message to Discovery Communications expressing your disappointment at their action and urging them to drop Sarah Palin's new show from their programming schedule."
Said powerful message is conveniently supplied for you. All you have to do is sign your name – which 9,000 Obama-zombies dutifully did in the first hour.
Stop and think about this for a minute. Sarah Palin is a private citizen. She is, of course  the former governor of Alaska, and the 2008 Republican nominee for vice-president, but she currently holds no elected office. She's not currently a candidate for any elected office.
But Team Obama thinks that the most important project of the week (they only send out one action call a week from Change.org) is to try to get her fired from the Discovery Channel.
Three comments:
A) this is outrageous conduct by a sitting president
B) Obama's vendetta against Palin is petty, personal, and unbecoming
C) the shrill charges that Palin wanted to wipe out beluga whales and polar bears are just plain silly.
The bottom line message from all of this of course is, Obama is really, REALLY, scared of Sarah Palin.